Manufacturing shortfalls, supply chain issues, and even inflation have led to increased costs for building materials. According to the Association of General Contractors (AGC), everything from steel to lumber have seen double-digit price increases between November 2021 and November 2022.
Contractors are struggling with how to handle it, particularly as demand for construction changes in the post-pandemic rebound. Contractor profit margins are tight during the best of times, but with clients also carefully minding their spending nowadays, there's little appetite for passing those costs along. Of course, that's when the needed materials are actually available, which is not guaranteed in the current economic climate.
To deal with these challenges, contractors are shifting their strategies and finding creative ways to make their customers feel like they're getting more value, despite the higher costs. We asked several industry leaders to share their top strategy.
Differentiate With Higher Service and Unique Solutions
One company that knows these challenges all too well is James Hardie Building Products. The global manufacturer of fiber and cement solutions for home exteriors is North America's largest siding manufacturer. Marc Setty, Director of the Remodeling Segment for James Hardie, says they've taken a two-pronged approach:
First, they're investing heavily in research to better understand their customers' path to purchase in large renovation projects.

They're taking those learnings and passing them along to their contractor partners.
Despite these efforts, Setty adds that customers still pose tough questions about the price and availability of the materials their proposed project calls for.
"Customers want to know, 'What can I do with my home? Can I achieve what I want to? Is it going to be the look that I want? What materials exist?' There are lots of questions. They may only do this one time in their entire life, and we feel like we've learned a lot about that path to purchase and in partnership with our contractors."
Because contractors have little control over factors like cost of materials or the rate of inflation, Setty says they advise their contractor customers to focus on what they can control in their business.
"If you want to maintain your revenue, you've got two levers to pull. You can increase your price, or you can reduce your costs. What we're focused on is how we can introduce technology, more streamlined processes, or different types of solutions that can make contractors more efficient in how they operate while providing homeowners with a better experience."
Setty says that by providing customers with that higher level of service pays dividends not just in customer satisfaction, but in profitability.
"When you do that really well you're likely going to lower your costs, but you're also going to put yourself in a position where you can demand a higher price because you've differentiated yourself with a more professional experience, or with specific solutions that other companies aren't offering to the homeowner. And you're putting yourself in a better position to succeed even in a challenging space."
Manage Expectations
Paul Trautmann, CEO of St. Paul, Minnesota-based roofing and siding specialists Timberland Exteriors, takes something of a philosophical view when it comes to materials challenges.
"Like everybody, we face challenges with materials. We realize there are things that are in our control and things that are outside of our control. So we try to focus on being able to deal with the things that are in our control."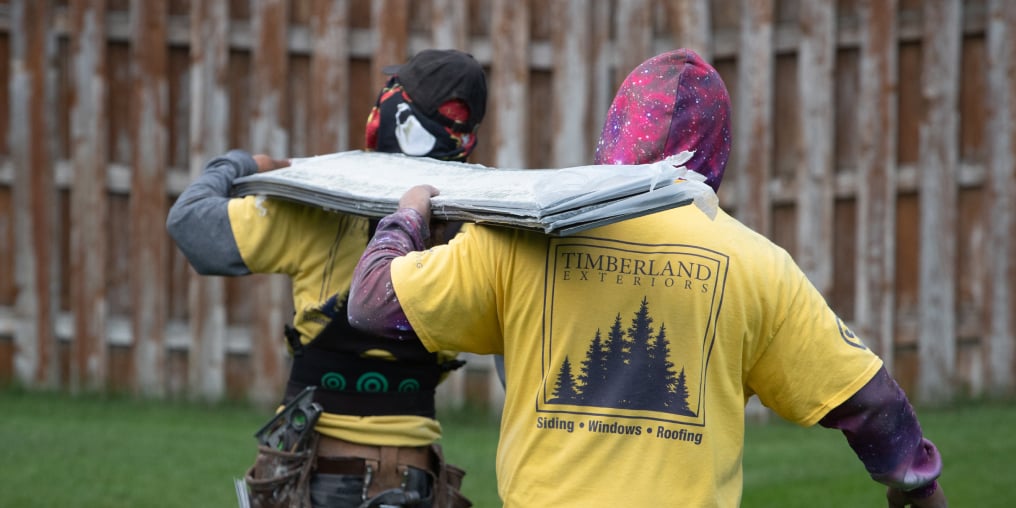 Timberland Exteriors team delivering siding materials to St. Paul, Minnesota jobsite.
He points out that while there isn't much they can do to mitigate material shortages, they focus instead on managing expectations.
"We try to encourage patience in our homeowners. Explain to them that this is worth waiting for, so be patient on what your experience is going to be. But sometimes it might take us a little longer to get there."
Focus on Communication
James Freeman, CEO of residential home remodeler PJ Fitzpatrick, says his company has worked hard to foster a culture of effective communication, both internally for employees and for their customers.
"Due to that, we provide a better customer experience regardless of product delays, regardless of other challenges we face," Freeman says.
"When we take care of our customers, people find that message out there in the market and we have an opportunity to lean into it more and provide more of that service to other customers. Ultimately we've had a lot of different approaches to this, but we've really focused on how we communicate with our people, how we set expectations, and being transparent throughout the entire process."
For even more insights on how leading residential contractors are not just surviving the new normal, but thriving in it, watch our free webinar on recession-proofing your business today.