During periods of economic turbulence, contractors are having to do more with less, without risking quality or service. This is hard enough during good times, but when you add a historic skilled labor shortage and economic uncertainty to the mix, many companies struggle to meet their business goals.
Construction has historically lagged behind industry peers when it comes to adopting new technology. But faced with changing consumer expectations and new innovation, technology can be a key differentiator for your businesses.
We asked a few industry experts to share how they're leveraging technology to reduce costs, streamline renovation projects, and even form better customer relationships. Here are just a few of their suggestions.
Enhance the Sales Process with Design Tools
Paul Trautmann, CEO of St. Paul, Minnesota-based Timberland Exterior says technology has been "a game changer" for the roofing and siding contractor who used to rely on tracing paper, house drawings and colored cardboard to explore design options.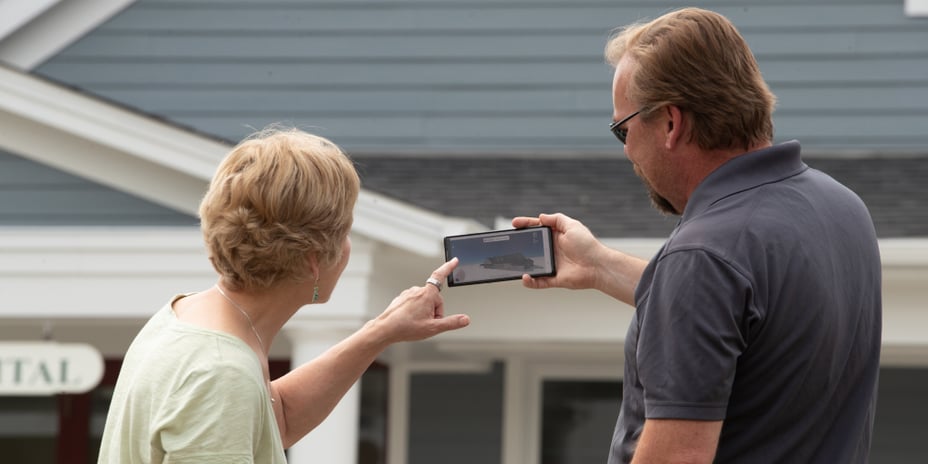 Paul Trautmann, CEO of Timberland Exterior, unveils a 3D model of a client's home, designed with her chosen materials.
"With HOVER, we can show our customers their house in 3D. We design their house with them and show them examples of exactly what their home is going to look like before we even start. It just blows their minds."
Undertaking a home improvement project is expensive and time-consuming. Trautmann says, "The visibility HOVER gives customers has helped steer customers away from wrong decisions, like a color choice they were sold on until they saw it on their home in a life-like design. I want to be able to show customers options so that when we finish, it turns out exactly like they wanted it.
"With the tools HOVER has, the 3D model and design capabilities, we can walk them around their entire house, showing them what it will look like in detail better than we ever could before. It's helping shorten lead time from people making decisions to actually signing with us."
Technology Can Streamline Measurement, Takeoff, and Estimation
Residential home remodeler PJ Fitzpatrick has adopted HOVER and other construction technologies to offer customers a more personal experience.
PJ Fitzpatrick takes tons of measurements during the day to day course of scoping projects. Before adopting HOVER, the process involved multiple reps taking different measurements which then all had to be reconciled – resulting in a time intensive process prone to inconsistent measurements, safety risks, and other issues. Since they started using HOVER, sales res have more time to focus on the customer relationship.
"It allows time for us to be in front of that customer, establishing those meaningful connections, those opportunities to showcase what PJ Fitzpatrick can bring to the table," says CEO James Freeman.
"It [HOVER] most certainly increases credibility, increases trust in our ability to match our commitments to quality. But even more importantly, we reduce the risk of omissions and resulting job delays. So HOVER is a critical part of our business."
Freeman acknowledged that sometimes change can be difficult, but when you know it's warranted you just have to jump in with both feet.
"We can do things the way we always have, or we can have a willingness to reapproach the old problems with new solutions. But you have to be willing to adapt, and you have to be willing to re-adapt," said Freeman.
Establish Processes and Systems You Can Trust
Marc Setty, Director of Remodeling for global fiber and cement solutions manufacturer James Hardie, points out that with so many technology solutions in the market, contractors sometimes have a hard time choosing which is best for their business. For those with a growth agenda, Setty says he tends to steer people towards solutions like HOVER that help contractors establish consistent, repeatable processes.
"If you want to grow your business, you need to create a foundation that allows for some repeatable processes and systems. You need to put some of those building blocks into your business, because going from a half a million-dollar company to a million-dollar company requires more than infrastructure. It requires more project management resources, more administrative resources, and more sales resources. And that gets expensive," he says.
"The more you can integrate repeatable systems, good foundational building blocks to your business through technology, the quicker you will be able to accelerate up the gross growth curve."
For even more insights on how leading residential contractors are not just surviving the new normal, but thriving in it, watch our free webinar on recession-proofing your business today.